Automotive leaders are no more in denial. They understand they'd need blockchain to help them solve a lot of problems. However, they aren't sure what blockchain use case could be the right pick for them. There is a reason for this. Existing studies project blockchain as one remedy for all wounds.
But automakers must view blockchains within the context of CAEVs (Connected Autonomous Electric Vehicles). What blockchain use cases would enable an acceleration towards CAEVs?
Model C Guidebook puts things in perspective.
First, it predicts how the industry will take a 4-phase transformation towards Connected Autonomous Electric Mobility.
Second, it showcases the automotive blockchain use cases enabling each of these 4 phases.
Finally, it analyses every single use case and advice when it is the right time to implement them.
Broadly, blockchain use cases are grouped into 4 categories
1. Fast to Market Solutions
2. User Experience Solutions
3. Solution enabling Value-added Services
4. Solutions enabling Decentralized Mobility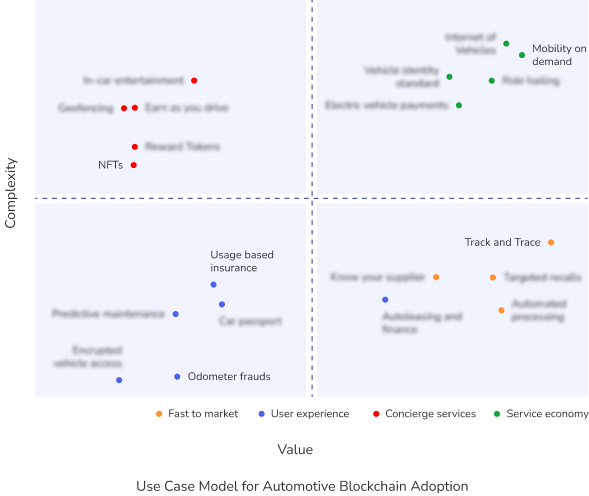 Through these Solutions, Automakers unlock 10 Strategic Benefits