If you are a part of the automotive industry, you will know how complex the automobile supply chain is. It is the second most complex supply chain process after the consumer electronics industry. A vehicle involves over 25000 components, electronic and digital technologies from various suppliers around the world. Consider the car air conditioner which involves a condenser, expansion valve, refrigerant, orifice tube, evaporator, pressure regulating devices, accumulator, control systems, and various other components. Likewise, almost all the systems in a vehicle include sub-components supplied by different vendors. With electric and autonomous vehicles becoming popular, your supply chain system becomes even more complicated adding new components and suppliers. A delay or disruption in any of these crucial supplies will lead to a production line shut down and financial losses.
From automobile companies to suppliers, part manufacturers, and dealers, the automotive sector involves various participants. It is critical for all these parties involved in the supply chain to work with efficiency and transparency in handling the products and data. An effective supply chain process helps to cut down operational costs and streamlines the manufacturing and distribution processes.
The automotive supply chain involves
Procurement of raw materials
Component manufacturers
OEMs
Spare parts supply
Storage and assembly
Third-party logistics
Distribution
What challenges does the current automotive supply chain management face?
Poor tracking and traceability of parts and raw materials slows down the manufacturing process and increases costs
Ensuring trust and transparency
Cybersecurity and risk of data tampering
Presence of counterfeit components in the market causing huge reputation and financial losses
Blockchain – An answer to your supply chain challenges
Blockchain will be a solution to many of these challenges – initially used for the transaction of cryptocurrency is now proving to be useful in various business applications. Blockchain integrated pilot projects in supply chain management are being initiated by various firms.
IBM and Maersk are working together to improve the transparency and traceability of transactions using blockchain technology
To track produces in the US and pork supplies in China, Walmart is using a blockchain system
Daimler AG and Landesbank Baden-Württemberg have tested financial transactions via blockchain
How will blockchain help?
Blockchain has the ability to revolutionize the existing automotive supply chain management system. It will bring improvement to lots of areas like complex data management and tracking and tracing of goods and services. The decentralized database makes it more secure and transparent. 
Tracking and tracing
An automobile consists of thousands of components from numerous suppliers and it is difficult for the OEMs to track all these parts. A blockchain-based SCM, by utilizing embedded sensors and RFID tags will facilitate record-keeping and provenance tracking. This data will be made available in a transparent, permissioned network and all the stakeholders can view and track the location, quantity, and other relevant information. This will help the manufacturers in planning production schedules and inventory management, thereby preventing supply chain disruption.
The same system can be utilized for tracking outbound logistics. A network of importers, dealerships, and third-party logistics can be created on the blockchain. This will help to reduce potential damages to vehicles and ensures on-time delivery.
Ensuring trust and transparency
Trust and transparency play a vital role in the automotive supply chain since numerous stakeholders are involved. Smart contracts make audit and verification transparent and simple. It defines compliance standards and every party has to follow them. The decentralized nature of blockchain makes it difficult for any single party to tamper with the data. Since numerous copies of the ledger are created within the network, editing or tampering with transaction records can be identified easily. Each party within the network will have its own key to access its portion in the blockchain. The OEM, suppliers, dealers, and other stakeholders will have a secure and transparent database.
Tackling component counterfeiting
A study commissioned by the International Chamber of Commerce (ICC), Business Action to Stop Counterfeiting and Piracy (BASCP), and the International Trademark Association estimated a $2.3trillion global economic value for the counterfeit and piracy market by 2022. The auto industry is not immune to this counterfeiting pandemic and has been rallying against this for many years.
This issue not only affects the company's reputation, but also the safety of the end-user. For an automotive manufacturer, the supply chain should be efficient enough to ensure that their customer gets genuine components when a replacement is required. A blockchain platform can help to tackle this problem. OEMs can track and trace their spare parts using RFID tags. They can uniquely identify the components and this digital identification can be shared among the various stakeholders through the blockchain network. This information helps to verify the authenticity of spare parts in near real-time.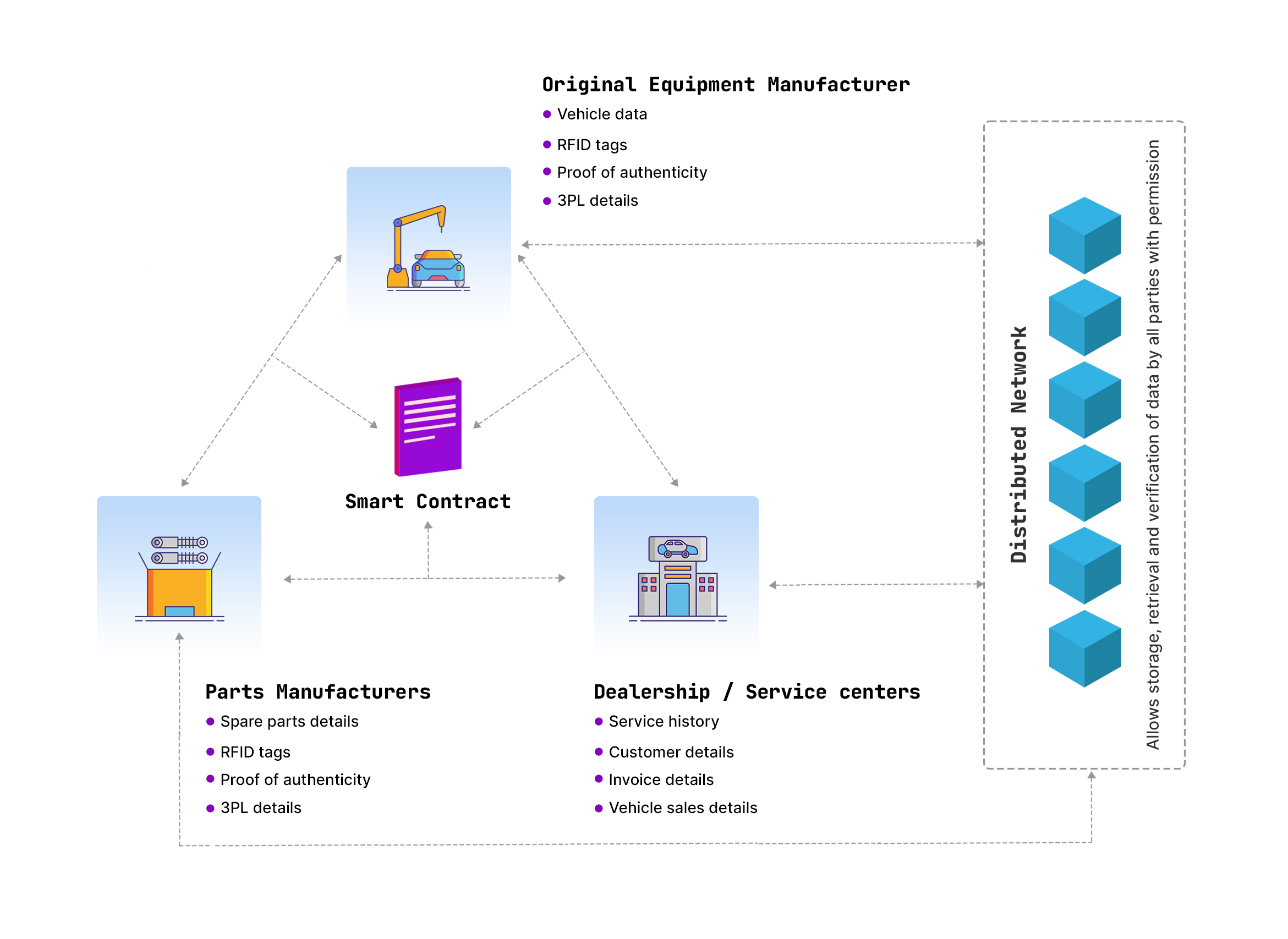 Why is blockchain implementation in automotive SCM challenging?
There are multiple challenges that you might face while implementing a blockchain network in the supply chain.
For an effective blockchain network, all the stakeholders (suppliers, OEMs, Dealers, etc.) should come on board. Industry support is required for blockchain implementation
The vendors and logistics partners might be having different software and platform vendors. It is possible but difficult to manage these decentralized applications managed by different vendors
Blockchain platforms require large computing resources. While handling tens of thousands of vendors in an automotive supply chain, a large number of ledgers needs to be created in the blockchain network and this requires large-scale data storage systems
Blockchain adoption
There are end-to-end blockchain infrastructure platforms that can support and manage multiple applications by different vendors simultaneously. An easy-to-use blockchain platform will enable a smooth transition from traditional supply chain management systems. The right blockchain platform will help businesses to close the gaps, build a smarter supply chain management system. Companies should analyze their priorities and gaps in their supply chain and determine which blockchain platform is best suited for their purpose.
Blockchain technology is here to stay
Gartner predicts, by 2023, 30% of manufacturing companies with more than $5 Billion in revenue will use blockchain technology to run industry 4.0 pilot projects. A blockchain is a powerful tool that will transform your automotive supply chain. It will close the supply chain gaps with transparency, traceability, trust, and coordination. Companies have started experimenting with blockchain applications and are expected to grow at a fast pace. Yes, it requires huge resources and investment but in the long run, blockchain will bring outstanding returns. Blockchain helps in the real-time tracking of movements in your supply chain and helps to reduce the overall cost. The potential applications of blockchain will expand further with technology evolution.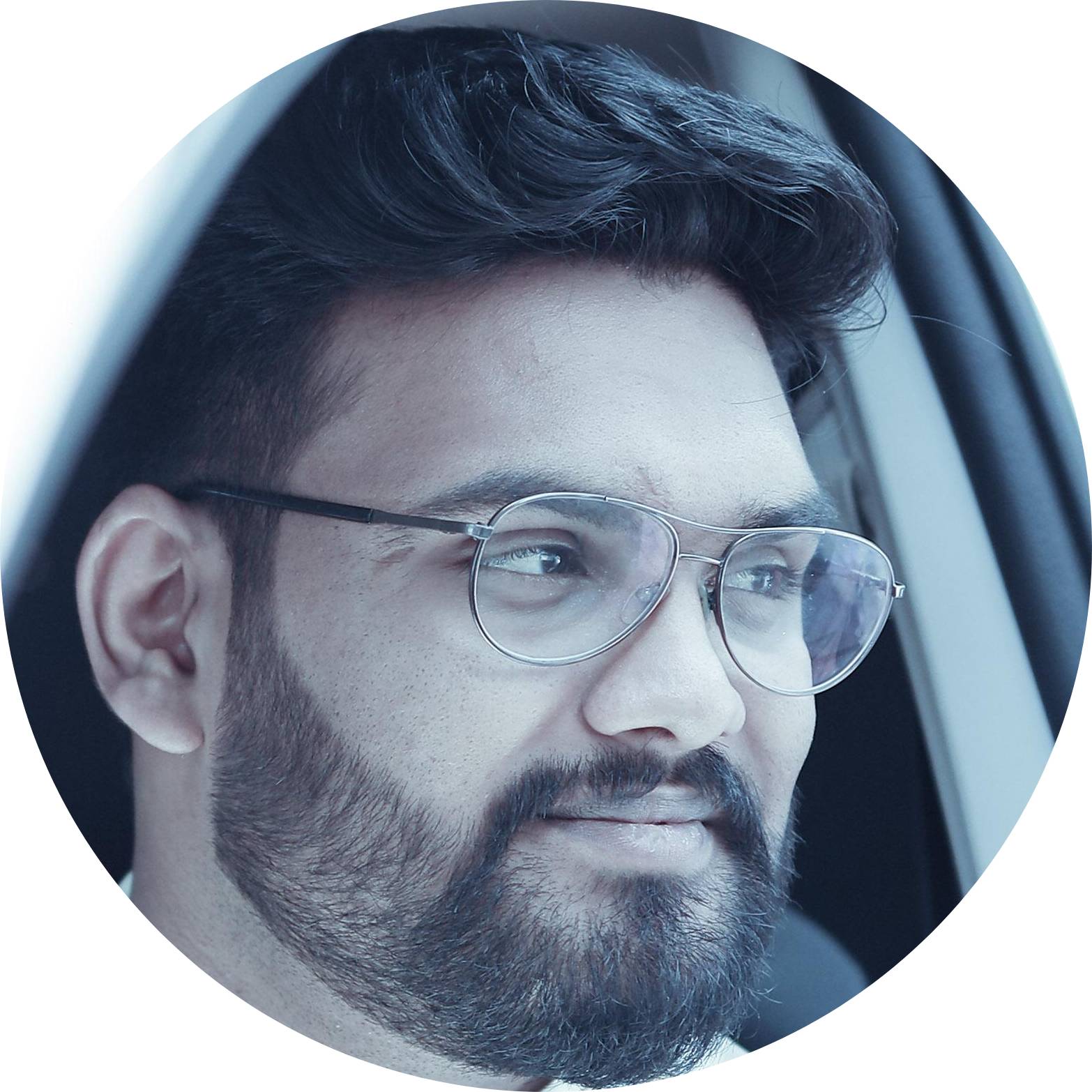 Anantha Krishnan
Aspiring author, creative marketer, and product marketer by trade, plans, creates and promotes strategic content to reach the target audience